VTouch won the 'CES Innovation Honoree' in two categories
2020-12-16

Ahead of the world's largest IT and consumer electronics exhibition 'CES 2021', AI deep-tech startup V Touch, won the 'CES Innovation Honoree' in two categories, 'Smart City' and 'Computer Peripherals & Accessories'.
VTouch's virtual touch panel is a product that analyzes the user with AI (deep learning) technology, accurately identifies the pointed position and motion, and can operate it as if touching from a distance without touching it in the same way as touch.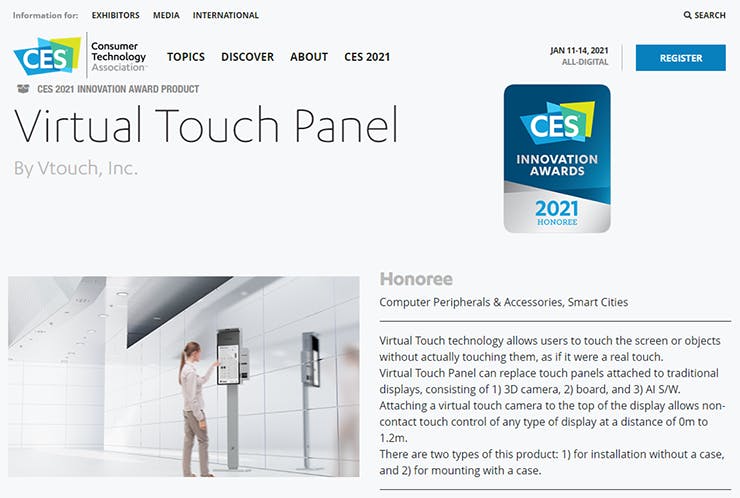 Virtual Touch Panel @ CES 2021 innovation awards
The virtual touch panel enables non-contact, remote touch control of any type of display by simply placing a virtual touch sensor instead of the touch panel that was attached to the front of the existing display. It blocks the risk of infection and makes it possible to easily control the entire screen area out of reach even for persons with disabilities in wheelchairs.
V Touch Co-CEO Kim Seok-joong said, "We will replace the existing unsanitary touch panels and buttons with hygienic and convenient virtual touch panels. Currently, we are preparing to launch with a number of companies such as elevators, kiosks, vending machines, and mirror displays."
On the other hand, V Touch's virtual touch technology was also applied to Hyundai Mobis and LG Display's CES 2021 entries, and is expected to be officially released on April 1 of next year.