VIRTUAL TOUCH
Panel
The virtual touch panel is a next-generation technology that makes the front space (3D) of the display a control area, which is higher than the existing touch panel, where only the touchable surface (2D) is the control area.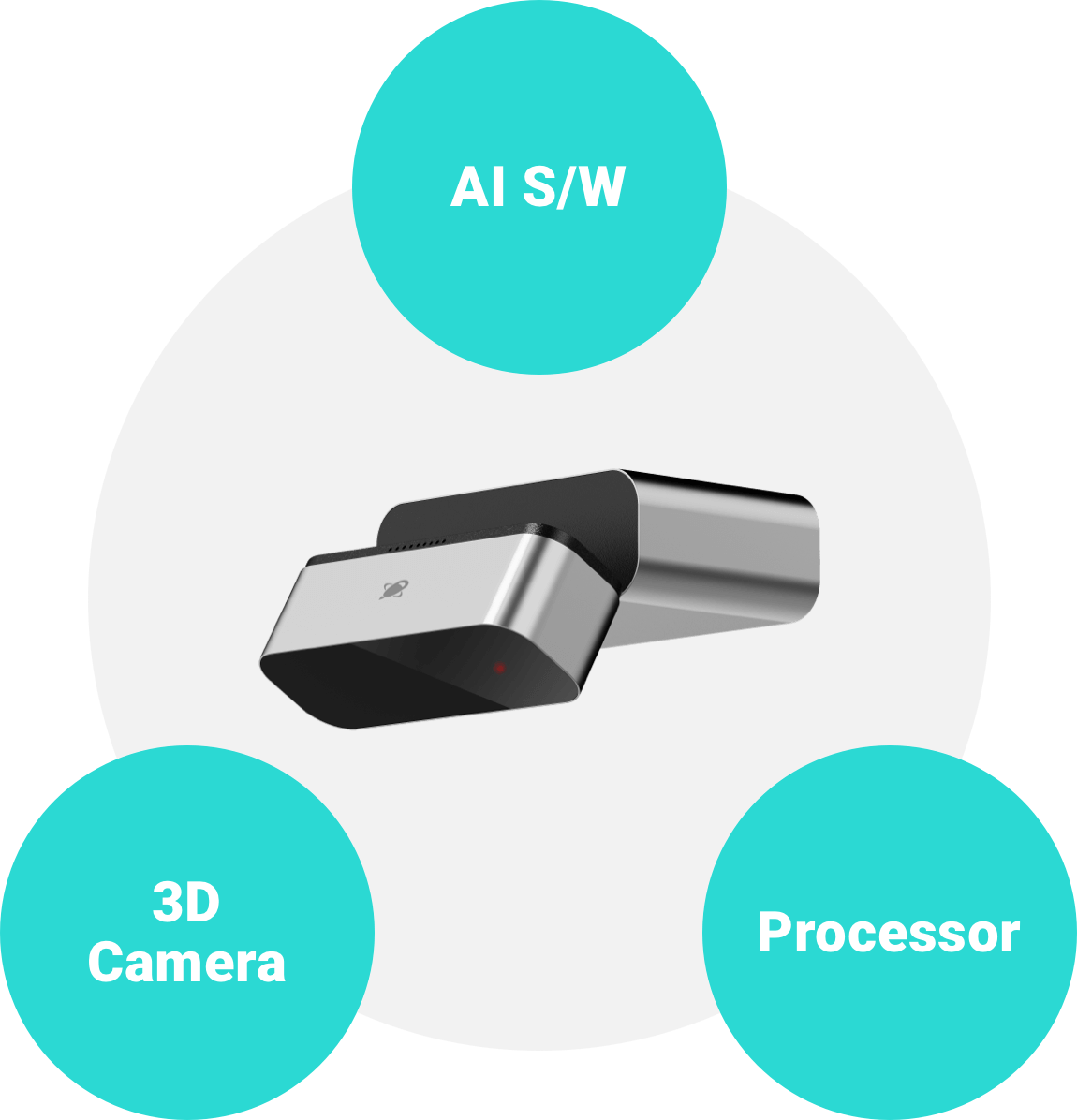 Overview
Virtual Touch Panel can replace touch panels attached to traditional displays. Virtual Touch Panel consisting of 1) 3D camera, 2) board, and 3) AI S/W. Simply putting a Vtouch camera on top of displays will allow touchless touch control of any type of displays up to 65" at a distance of 0m to 1.2m
Key Features
Virtual Touch is a technology that analyzes the user's motion with deep learning (AI) technology through a 3D camera, allowing you to pinpoint where a person is pointing and select that precise point at the same time.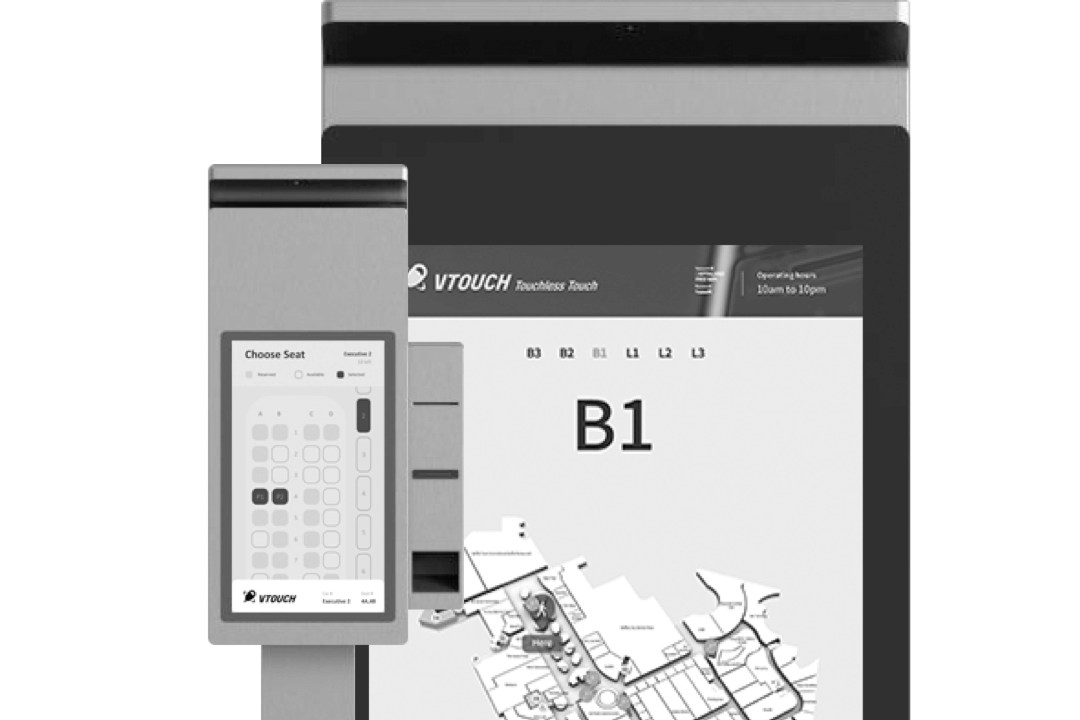 Touch-like Interface

Works exactly the same way as touch panels work. New users can use it right out of the box without a guide.

Zero Latency

Near zero latency thanks to VTouch's patented prediction algorithm.

True touchless control

The screen won't get dirty, there is no risk of infection caused by contact, so it is hygienic and safe.

Distance Control

Control areas that are out of reach at the top of the screen, even for wheelchair-disabled and people with short height.

Easy to install

Support for HID protocol enables USB Plug & Play with client devices.
Product Specifications
Model No.
VTP84SHB
VTP84SHC
Description
Virtual Touch Panel module
Virtual Touch Panel module with a case
Usage
Preload
Addon to existing
DIMENSIONS
3D Camera: 26(L) x 63(W) x 23(H) mm
Board: 58(L) x 86(W) x 20(H) mm
Case: 88(L) x 94(W) x 32(H) mm
compare
Existing Technology vs. Virtual Touch
Other touchless technologies (IR touch, camera-based gestures, etc.) only detect user's hand movements, so there are huge discrepancies between user's perception point and touch point.
Virtual Touch Panel
IR / P-CAP touch
Camera based solution
Operation Range
0cm - 120cm
0cm - 3cm
0cm - 3cm
Pointing Method
Touch Type


(Natural Pointing)

Touch Type


(Perpendicular Pointing)

Mouse Cursor type
Touch Recognition
SW


(Machine Learning)

HW


(Electrical)

SW


(Machine Learning)
Triggering Method
Layer & Motion
Layer
Motion
Processing
On device


(Arm Core)

On device
PC required


(i5 CPU or higher)
Installation
Preload / Addon
Preload
Add on
Touch Object
Display, Device, Thing
Display
Display

* Existing technologies require the user to point perpendicularly for accurate touch. This is due to discrepancy between user's perspective and actual touch point. This discrepancy is also limiting the operation range
Reference Design Kiosk
Virtual touch panel applied on 55" kiosk and 24" kiosk
Name
Virtual Touch Panel + 24" Kiosk
Virtual Touch Panel + 55" Kiosk
Model No.
VTPK24SH
VTPK55SH
Usage
Ordering, Ticketing...
Information, Digital Signage
Dimentions
195mm (L) x 401mm (W) x 2056mm (H)
680mm (L) x 820mm (W) x 2070mm (H)
Triggering Method

3D camera
Board
AI S/W
24" Display, 300nit, FHD, LG Panel
(Optional) Mini PC
(Optional) IC Card Reader
(Optional) QR/Barcode Reader
(Optional) Receipt printer

3D camera
Board
AI S/W
24" Display, 300nit, FHD, LG Panel
(Optional) Mini PC
The world's first complete contactless touch technology
Hygienic, non-contact, long-range touch solution for post-covid-19 era